Sometimes I sit back and marvel! God's wisdom always proves true, and over and over throughout history Israel has used "unconventional means" (wisdom from God) to win battles.
Very early this morning, I reported the 40-minute Israeli airstrike that decimated Hamas strongholds in Gaza. Now we are learning much more about that operation! A day or two ago, Israel amassed large numbers of tanks and ground assault vehicles on the border of Gaza and announced to the world they were about to invade. Media took the bait, enhanced the narrative a bit (to include that troops were already inside Gaza), and spread the news far and wide.
However, they did not invade! Tanks and assault vehicles on the border caused Hamas to send hundreds of terrorists into tunnels from which they would attack the Israelis as they entered. They also brought out their anti-tank missile launchers to defend against what they thought would be an advance. So, with terrorists in tunnels and Hamas ammunition exposed, Israel did something very different!
They launched 160 aircraft and employed naval and land assets to deliver about 400 precisely-guided missiles to take out the anti-tank launchers, and to bury hundreds of terrorists as they gathered in their elaborate tunnel system! It took about 35-40 minutes to accomplish the mission, and here is what part of that tunnel system looks like today:
Even before this barrage, Hamas had asked for a ceasefire and Egypt sent an envoy to Jerusalem to negotiate with Israeli officials. Israel, determined to cut off the head of the snake this time, said no. That negotiator returned to Cairo yesterday. Seems Israel is intent on taking care of Hamas in Gaza. However, in response, a Muslim cleric has called for an Islamic "deterrent force" that will "rescue Jerusalem from the hands of foreigners." Good luck with that! God says Jerusalem belongs to the Jewish people.
Then, as if they didn't have enough going on, an IDF special ops unit, under cover of total darkness and rocket fire, sent a convoy into Gaza to rescue 40 Thai workers who had been trapped for 4 days in an agricultural area, isolated and without food and water.
Oh, and by the way, those three rockets that were launched from Lebanon a few days ago? Hezbollah cut that off at the root! Seems they want no part of the wrath being exacted on Hamas! They arrested those who fired the rockets. However, attempts have now been made to sabotage the border fence between Israel and Lebanon, so don't be surprised if tensions rise in the north.
Finally, in a show of solidarity with Israel, Austrian Chancellor Sabastian Kurz ordered the Israeli flag to fly beside the Austrian flag above his office in Vienna!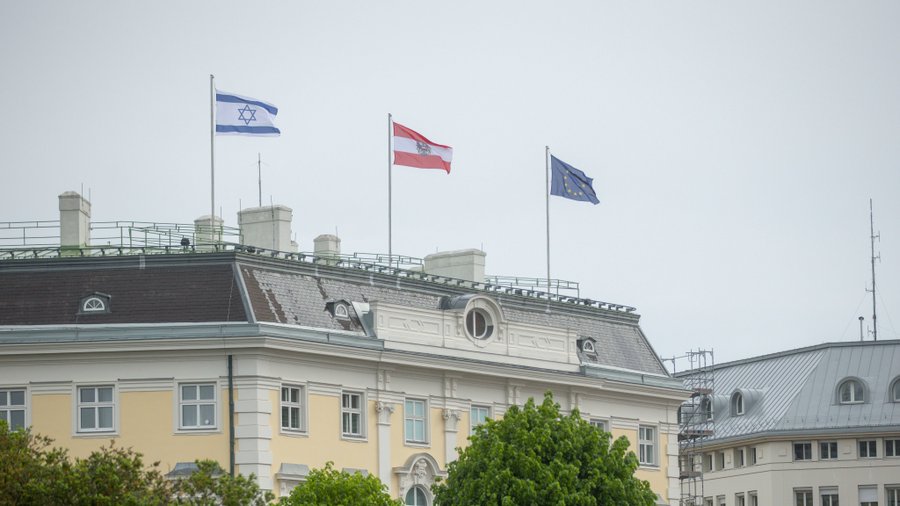 That is truly a positive gestured. But, ironically, Vienna is hosting the talks between Iran and intermediaries of the US, in attempts to get Iran back to the negotiation table regarding the nuclear deal. C'mon Chancellor Kurz…kick negotiators out of your country!
Happy Independence Day, Israel!