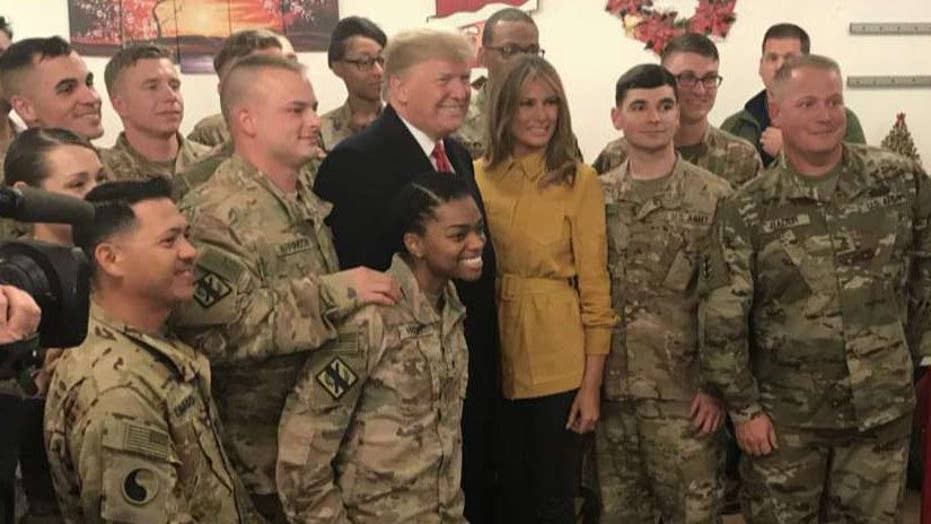 In the midst of Christmas week, action continues in the Middle East. Not only did Israel launch additional airstrikes on Iranian positions in Syria, President and Mrs Trump made a surprise visit to troops in Iraq.
Overnight Israeli strikes targeted advanced GPS-guided missile shipments from Iran, as well as senior Hezbollah members en route to Iran. Known shipments of advanced weaponry have been transported to Syria from Iran via a Fars Air Qeshm Boeing 747.
Israel has vowed not to allow Iranian advanced weapons to reach the hands of Hezbollah. Thus, several precise Israeli air strikes have been launched over the past few days.
Keep your eyes on Damascus. Isaiah 17:1 prophesies her total destruction, and many Bible scholars believe that could clear the way for a northern invasion by the Gog and Magog coalition (Ezekiel 38-39). Our time is short.
Meanwhile, while Israel was taking care of business in Syria, Air Force One was delivering our First Family to Iraq. In an unannounced visit to American troops, the President and Mrs Trump spent 3 hours visiting soldiers in Iraq. They are currently headed to another undisclosed location to wish America's best warm Christmas and New Year's wishes.
Pray for our President as he travels, and as he attempts to lead our nation in the midst of very difficult circumstances. Pray, also, for all Senators, Congressmen, agencies, the Supreme Court and all who govern us. Our country needs prayer more than ever.
Pray, also, for wisdom for the Israeli military leadership as they deal with very real threats to Israel's safety and sovereignty. Likewise, pray for Prime Minister Netanyahu and his cabinet as they now prepare for elections in April. May the Lord appoint those "for such a time as this."
Blessings, my friends!
PS: We're in the middle of a short series on the power of Jesus' presence. If you missed this morning's post, check it out. Then, stick with us the next couple days!