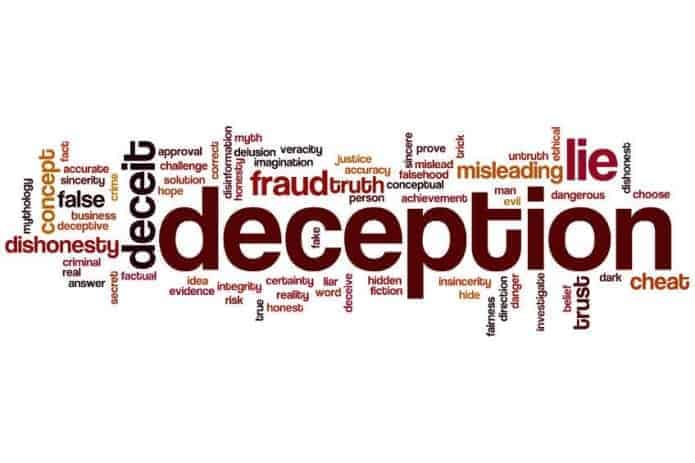 A deceiver is in our midst, and deception is subtly (or not so subtly!) creeping into virtually every conceivable nook and cranny of society. It is no wonder we are warned in Scripture not to allow deception to find a home in our personal lives. At least a half a dozen times in the New Testament we're warned directly or through example not to be deceived. (Search the words "deceive" and "deceived" to see for yourself.)
The Bible tells us clearly that Satan is a deceiver and the father of all lies (John 8:44), and he is most definitely alive and well and wrecking havoc in our world today. Thankfully, we know his ultimate fate!
And the devil who deceived them was thrown into the lake of fire and brimstone, where the beast and the false prophet are also; and they will be tormented day and night forever and ever.

~Revelation 20:10
Yes, Satan will have his heyday here on earth, so we must resist him. But I want to zero in on another group about whom the Bible warns: earthly deceivers. Romans 16:18 describes those who, by their "smooth and flattering speech," deceive hearts. They are not of our Lord! Ephesians 5:6 warns us to be wary of those who deceive with empty words, because it brings about the wrath of God. Titus 1:10 tells us there are many rebellious men, empty talkers and deceivers. But notice especially 2 Timothy 3:13:
But evil men and impostors will proceed from bad to worse, deceiving and being deceived.
Do you get the sense that evil is growing in our society and that deception is proceeding from bad to worse? More and more rampantly our society is calling evil good and good evil (Isaiah 5:20), while becoming fools by doing what is right in our own eyes (Proverbs 12:15).
Each of us could likely come up with long lists of things in which today's media and politicians spin in order to advance their own agendas. We all see it…but do we grasp the depth of reality of it? (Monday's post focused on an element of it.) To narrow it down in scope, consider what has been said and what has happened recently in our own US Congress. A Muslim Congresswoman was allowed to purposefully, blatantly and openly spew unquestionably anti-Semitic remarks without receiving even a word of correction or condemnation for those words. (In fact, a resolution protecting Muslims and others from such vitriol was passed, while outright minimizing the anti-Semitism.)
Now, arises yet another example. On March 17, another newly-elected young Palestinian Congresswoman went on national TV to tell the story of the persecution and oppression of the "Israeli occupiers" against her grandmother in Palestine. The problem is…she lied about it. Her grandmother does not live in "occupied territory" (even it there was such a thing in Israel). She lives in an area governed by the Palestinian Authority for the last 24 years!
Yet, this Congresswoman went on national TV in an interview on CNN to make those false claims. (See Rashida Tlaib Lies about Her Grandmother so She Can Blame Israel)
Please understand, I do not see this as a battle between Muslims and Jews. I see this as a battle between good and evil, right and wrong. What we are seeing, though, is only the tip of the iceberg! This deception is taking root and will grow in volumes we never thought possible in a very few years if Jesus tarries in His return or if a great awaken fails to ignite in our country. We are headed down a dark, deceptive path if one of those two things do not happen.
But be hopeful, my friends! While the deceiver will remain active in our world (and grow more so as the last days unfold), we not only know his ultimate fate (Revelation 20:10), but we know how the book, God's Word, ends! We win! So, be of good cheer…and join the Spirit in saying to the Bridegroom, "Come, Lord Jesus!" (Revelation 22:17)
PS: Join us at Calvary PHX on Sundays April 28, May 5, May 12 and May 19 as we engage in a 4-week study called Understanding the Times. We will examine these and other current events through the lens of Scripture, as we study to understand the times. Classes are at 8:00am in Room 209 at Calvary's central campus (Phoenix AZ). See you there!