When I saw the picture above of Nikki Haley casting her lone veto vote in the UN on Monday, I immediately thought of Hanukkah!
You see, Hanukkah is a celebration of light, and US Ambassador Haley was a bright light in a dark place during the most recent fiasco at the United Nations.  Following President Trump's December 6 acknowledgement of Jerusalem as Israel's capital, the Palestinians and most of the Arab world went crazy…and much of the world followed.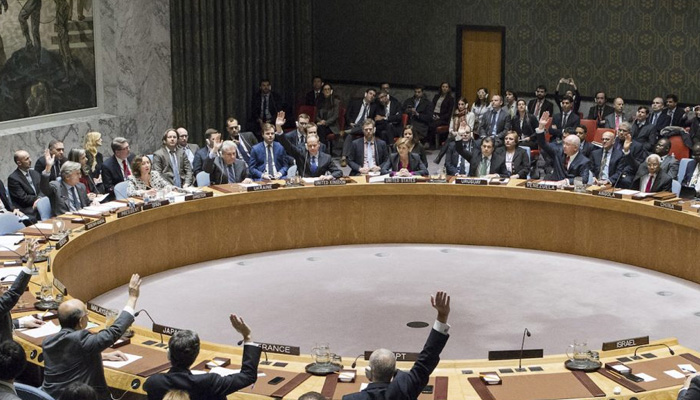 An emergency session of the UN Security Council was convened (at the request of Egypt), where the Palestinians made their case and requested that the Council condemn Trump's statement and require that it be withdrawn.  The 15-member council then voted on the resolution…all but one voted for it.
However, because the US is a permanent member of the Security Council, the United States has veto power, and Ambassador Haley exercised it, making America the ONLY nation of the 15 to support Israel.  Among the 15 were representatives of several Muslim nations, thus no surprise at their vote.  More disturbing, though, were the votes of nations such as France, the UK, Italy, Japan and Sweden.  Radical Islam is alive and well in Europe, and allies of the US are succumbing to Palestinian propaganda.
Hanukkah is such a symbol of Israel's perseverance through the darkest times.  However, light dispels darkness, and each Hanukkah candle that is lit sends a message of God's faithfulness.  Nikki Haley's single uplifted hand on Monday was a candle lit in a very dark place!
BTW – Israeli Prime Minister Benjamin Netanyahu took notice and tweeted out:
PS:  Check out Nikki Haley's 5-minute speech at the UN!  This woman's GOT IT!