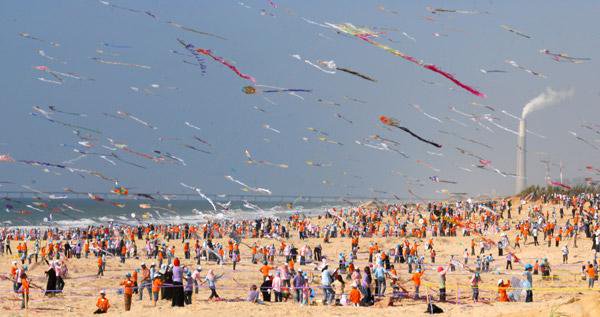 Over the past few weeks, Palestinians have resorted to launching kites into Israel which carry fire lit materials and are intended to set fields, forests and cities in Israel on fire.
The Jewish city of Sderot is situated less than 2 miles from the Gaza border and has been targeted by those kites.  So, after enduring many fire kite attacks from the Gaza Strip, Sderot decided to respond!  Dozens of kites filled the skies over Sderot, each emblazoned with a personal message of hope and renewal!  Prior to the event, Sderot's mayor said:
"Our children are busy with positive activities; for us, these will be kites of life and not kites of death. We are also calling on the children of Gaza to play and not to be dragged into terrorist acts."

"In contrast with our neighbors in Gaza who turned the beautiful hobby of kiting into a terrorist act, with huge agricultural damages, the children of Sderot and the region are returning the kites to their original form – from making them to sending them soaring into the skies with the hope that they will not fall. We deal with positive acts and optimism and the wish that our children will always be happy. I call out to the children of Gaza to play with the kites that they make and not to be sucked up by agents of terror – for us these are kites of life and not of death."
What an incredible response to the terrorism that plagues Jewish cities along the Gaza border!  While the terrorists in Gaza attempt to turn children's light-hearted play objects into weapons of terror, Israelis work to return the innocence of kites back into what they should be: objects of play!
Indeed, may these kites of hope bring peace and joy to Israeli and Palestinian children alike.