Happy Monday everyone!  If you're following our study together, you know that we are currently focusing on the Palestinian Problem and Terrorism.  Current news couldn't be more appropos for our study!
Indeed, tensions are rising once again between Palestinians and Israelis, as Palestinian leaders incite their people to violence (see emphatic videos here)…then point the finger at Israel.
In the midst of incitement and violence by Palestinians against Israelis, MSNBC aired a blatantly inaccurate report utilizing maps known to be Palestinian propaganda tools!  On college campuses across America, these propaganda tools are used to convince students of the "injustice" done to Palestinians by the "occupiers" (Israel).  Their claim is that land has been taken from the Palestinians, but a bit of solid, historical research proves that to be false.
To understand the propaganda war waged by the Palestinians, please take a few moments to read The Mendacious Maps of Palestinian "Loss."  Then, compare that data to the map below indicating land that, according to international law, was legitimately conquered by Israel after being attacked…yet was given up in return for the promise of peace.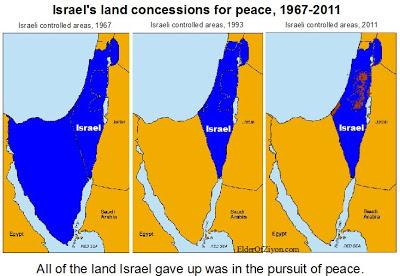 For Israel, peace is elusive.  Regardless of what they agree to give up, peace never follows.  While they pursue peace, Palestinians pursue piece…elimination of Israel, one piece at a time.
Please pray, believers!  Israel's leaders need wisdom…particularly in upcoming meetings with US diplomats who will undoubtedly resume pressure on Israel to give up yet another piece of their land.
"I will restore the captivity of My people Israel,
And they will rebuild the ruined cities and live in them;
They will also plant vineyards and drink their wine,
And make gardens and eat their fruit.
I will also plant them on their land,
And they will not again be rooted out from their land
Which I have given them,"
Says the Lord your God.
~Amos 9:14-15
PS:  If you just stumbled upon this page, we are in the midst of a Bible study called Looking for the Blessed Hope, and I've posted these related articles in the past three days: