I was glad when they said to me,
"Let us go to the house of the Lord."
Our feet are standing
Within your gates, O Jerusalem,
Jerusalem, that is built
As a city that is compact together.

~Psalm 122:1-3
As Jewish pilgrims made their way to Jerusalem three times a year for the major feasts, they sang the Psalms of Ascent (Psalms 120-134). The Temple was their ultimate destination, but can you imagine their thoughts as they entered the gates of the Holy City?
I can't imagine entering and approaching the Temple that stood in Jesus' day. However, I can imagine our feet standing within Jerusalem's gates because that is exactly what we are experiencing about the time this post goes live! We had a wonderful time along the Mediterranean Coast, in the Galilee region, and in the far north of Israel, but there is something very special about entering the city of Jerusalem, then stepping foot within the Old City walls! Indeed, we are living out this Psalm!
Verse 3 (above) references Jerusalem being a city that is compact together. That was the case in Jesus' day, and continues to present day. Here is a picture to help you process the "compactness" of the city: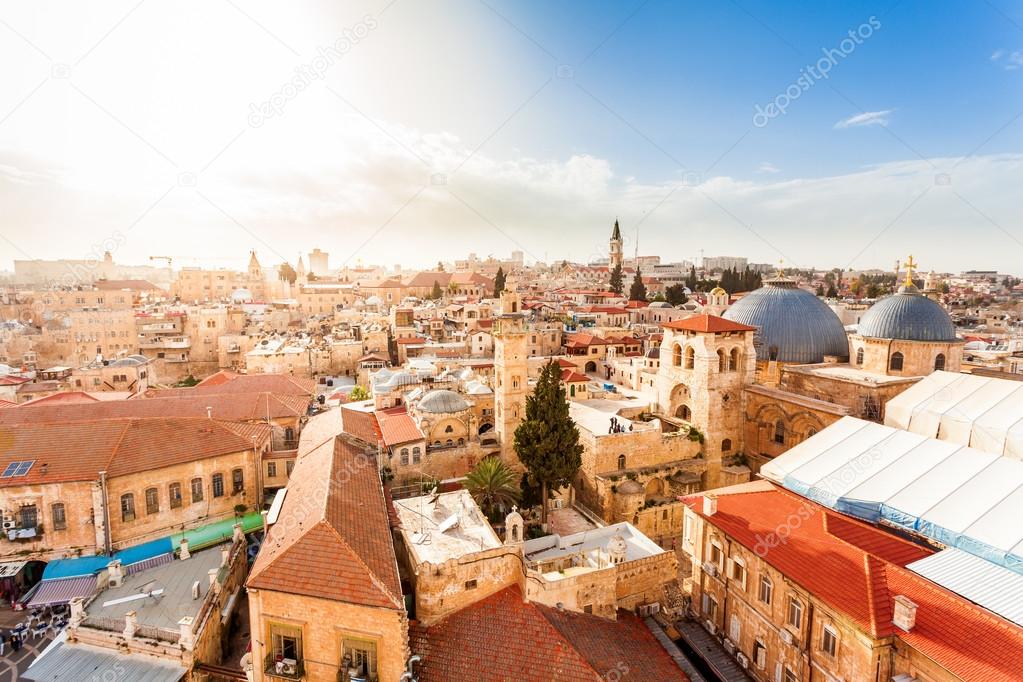 Four "quarters" (not the same size) lie within the walls of the Old City: Jewish Quarter, Christian Quarter, Armenian Quarter and the Muslim Quarter. Each has its unique character. Here is a picture of the marketplace in an Arab section of the Old City, just inside Damascus Gate:
The Jewish Quarter has its share of shops, homes and gathering places. Here is a very peaceful Jewish common area (gathering place) in the Old City:
Indeed, the Old City of Jerusalem is a compact city, just as Scripture says! Here is one final photo of the Old City from high above. Other than Temple Mount, which is seen in the lower right quadrant, you see how very crowded it is!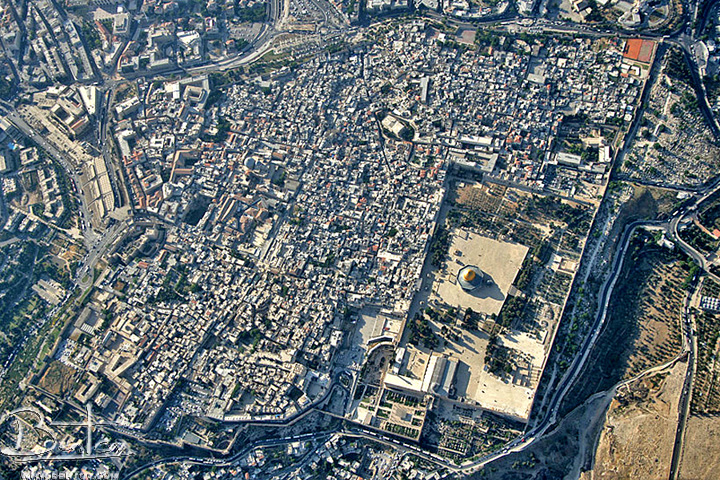 Our feet are standing within these walls. In days of old, as Jews journeyed up to Jerusalem, they sang this psalm: I was glad when they said to me, "Let us go to the house of the Lord." Though the Temple (house of the Lord) no longer stands, we rejoice because God's Word tells us the Holy Spirit does not dwell in houses made by human hands (Acts 7:48), but within us! You and I, as believers in the Lord Jesus Christ, are the temple of God, and the Spirit of God dwells in us! (1 Corinthians 3:16)
God has drawn us into His Story!