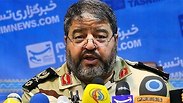 Hi friends!  I thought it was a joke at first, but apparently an Iranian General (Brigadier General Gholam Reza Jalali) really did accuse Israel of stealing Iran's clouds!  Read it for yourself:  Iranian General Says Israel Stealing Iran's Clouds.
Extremely absurd, I know.  But if someone is hated enough, they become the target of outrageous accusations.
BTW – according to Ynetnews.com, he's not the first to make the accusation.  Former President Mahmoud Ahmadinejad made the same claim in 2011.
Let's be reminded that the Lord cares for and defends Israel.  He fights for her!  So, if the Iranian regime and their cronies wish to resist God's great love for them, He is able to show His great power any way He wishes!
May the God of Abraham, Isaac and Jacob continue to bless Israel.  May He use those who love and care for Israel to bless them, and may those who oppose the God of Israel turn their hearts and minds to Him for salvation.