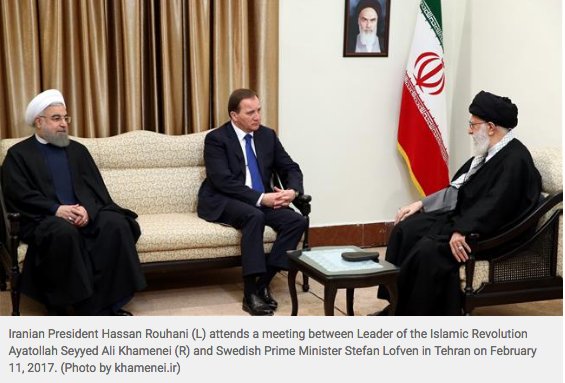 According to news sources such as the Times of Israel, Swedish Prime Minister Stefan Löfven spent the weekend meeting with Iranian Ayatollah Ali Khamenei, President Hassan Rouhani and other Iranian officials in Tehran.  Prior to international sanctions, Sweden and Iran were significant trade partners.  Now that sanctions have been dismissed by the recent Iran nuclear deal, Sweden and others are free to do business with Iran.
During meetings over the weekend, 5 memorandums of understanding were struck between the two countries, increasing cooperation in things such as research, technology, education and transportation.
Not only has the Muslim population expanded in Sweden, but antisemitism there has become a significant issue, as referenced in this article, published less than a year ago.
Across Europe and around the world, Jews are feeling the effects of antisemitism.  Not only are they being shunned, but her enemies are being glorified and invited into coalitions hell bent on Israel's destruction.
Again, we're reminded why the Bible teaches us to bless Israel (Genesis 12:3), support Israel (Isaiah 40:1) and pray for Israel (Isaiah 62).